This is a travesty and completely against what should be in the Equality Act 2010. How can one human being be treated like this and by a, so called, nationised industry.

Those who want whole scale re-nationalisation hold LNER as an example, but an example of what, it appears total inequality.

It would appear that reasonable adjustments need to be made, like providing all disabiled people who travel on public transport some form of immediate communication to stop this occurring again.

Why can not these incidents be treated as a'Hate Crime'.

'spokesman for LNER told the BBC: "We are very sorry for the unacceptable experience Ms Davis had whilst travelling with us.

"We are fully investigating the incident to understand what went wrong and to ensure that lessons are learnt for the future."  But will they, how many times over many years have these words 'lessons are learnt ' been mentioned, but are they, well, if they are you can count them on 'one' finger.
Govt Newspeak
Tanyalee Davis taken 50 miles out of way, days after she was 'harassed' over using a disabled space on another train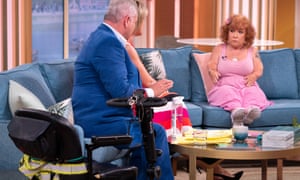 A comedian who felt "harassed and humiliated" for using a disabled space on a train for her mobility scooter, prompting an apology from the operating company, has had yet another bad experience on the railways.
Tanyalee Davis was en route to York for a show and, although she had already spoken to staff to ensure she would be helped off the London North Eastern Railway (LNER) train, no one came to assist – meaning she had to stay on board until Darlington, 50 miles away.
Canadian-born Davis, 47, who has a form of dwarfism, was ordered to vacate the disabled space on a GWR train earlier this week.
View original post 305 more words