The Government have been told time after time that sanctions are not the answer, especially for disabled people. Instead of applying sanctions the DWP should be helping people into employment.

Unfortunately the DWP lives in 'Cloud Cuckoo Land' or they are working to make people fail.

Some of the reasons ignored by the DWP for failing to attend DWP meeting requests, are already working, in hospital, no suitable transport available to get to meeting and many others.

The DWP is not 'fit for purpose' and they themselves should be sanctioned for creating impossible conditions for claimants to adhere to.
Govt Newspeak
Study concludes that punishing claimants triggers profoundly negative outcomes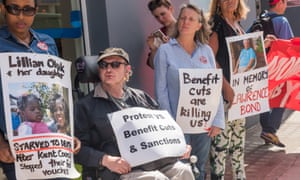 The five-year exercise tracking hundreds of claimants concludes that the controversial policy of docking benefits as punishment for alleged failures to comply with jobcentre rules has been little short of disastrous.
A view on the government's punitive and repugnant benefits policy
"Benefit sanctions do little to enhance people's motivation to prepare for, seek or enter paid work. They routinely trigger profoundly negative personal, financial, health and behavioural outcomes," the study concludes.
Despite claims by ministers in recent years that rigorously enforced conditionality – including mandatory 35-hour job searches – incentivised claimants to move off benefits…
View original post 966 more words