Labour's new shadow work and pensions secretary Jonathan Reynolds is showing that incompetents are not solely within the Conservative Party or is he a Tory plant within Labour.

Jonathan Reynolds and the Labour Party need to get their act together, otherwise we will have Tory Governments until infinity and Labour will be finished forever.
Govt Newspeak
Labour's new DWP shadow attacked for 'toxic' comments on social security – DNS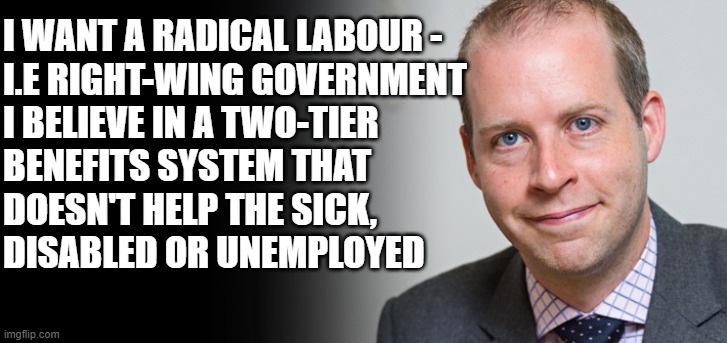 Labour's new shadow work and pensions secretary is facing anger from disabled activists and politicians after he said that people who "put more in" to the social security system should "get more out of it" if they lose their jobs.
Among those to criticise the comments made by Jonathan Reynolds was Kerena Marchant, a Deaf campaigner who stood for Labour at the last general election.
Disabled People Against Cuts (DPAC) has written an open letter, accusing Reynolds of "toxic" statements, and later accused Labour of "fundamental ignorance around disabled people's oppression".
In an article for the Politics Home website, Reynolds (pictured) said he wanted to see a social security system in which "if you put more in, you get more out of it".
He added: "One of the reasons that support for social security has diminished amongst…
View original post 115 more words